Setting up a pool in the property allows people to relax, have fun, and add an element of beauty. But when it comes to enclosing the pool surroundings, it becomes crucial to secure the pool with appropriate fencing using high-quality glass hardware products. Using quality glass and glass hardware for pool fencing not only upgrades the pool appearance but also adds value and safety. A frameless glass pool fence enfolds several advantages:
Transparency is the latest trend: Frameless glass gives a sleek, and elegant appearance for contemporary design. While installing traditional pool fence fittings creates a coop-like enclosure, the glass one allows for natural light and a brighter view.
Better Return on investment: Installing frameless glass pool fencing instead of traditional aluminum and wooden grants a better return on investment in terms of resistance, safety, and durability. It's easy to maintain and clean.
Glass pool fencing adds safety for your loved ones: A transparent glass fence offers an uninterrupted view, it's easier to keep an eye on when kids are playing in the pool. The glass pool fence may also save people from sudden slips and falls while walking around the wet area.
Tag Hardware offers various options of quality glass fittings to install a pool fence in different ways:
Frameless Glass Pool Fencing with Spigots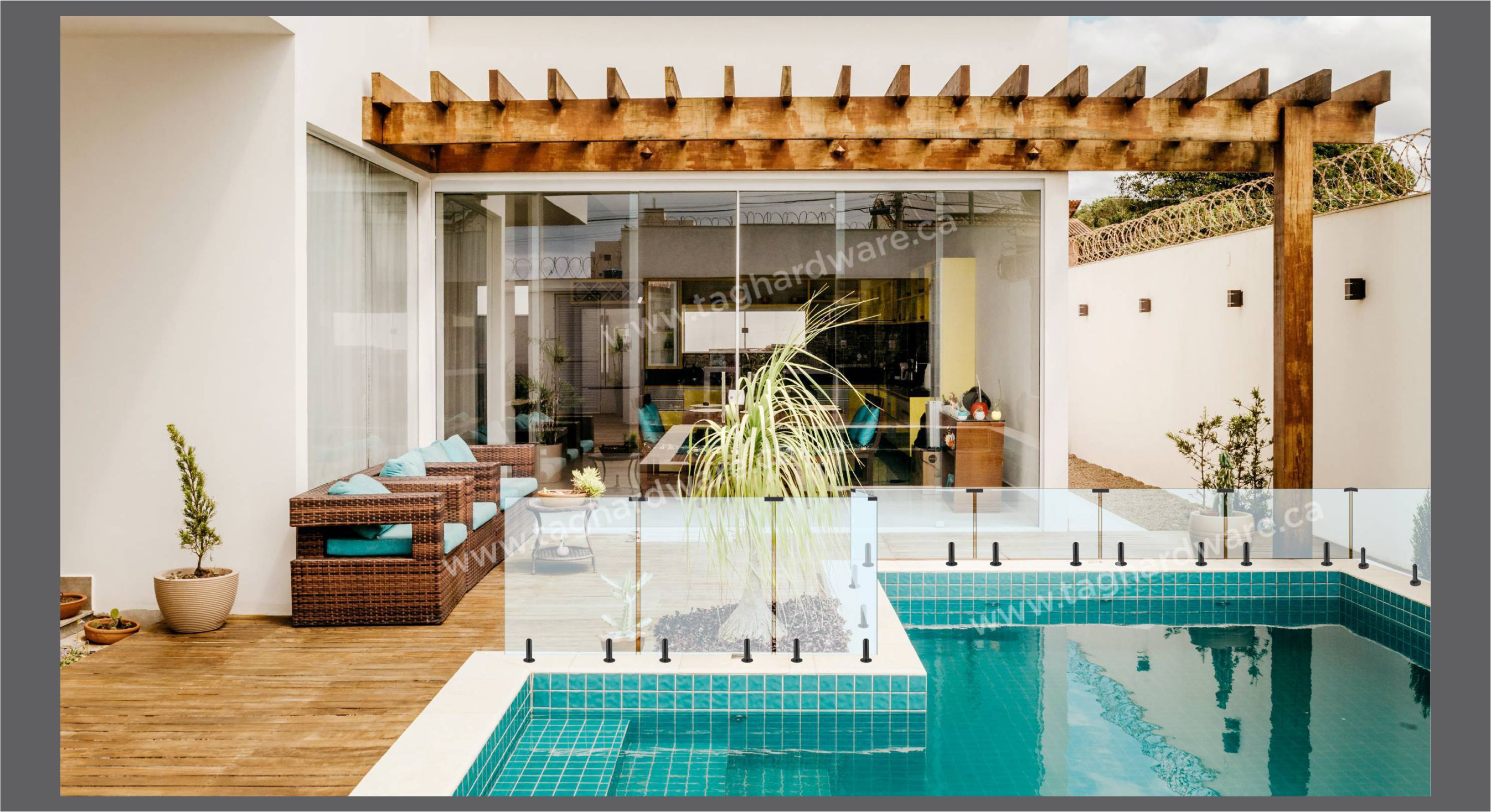 Recommended Product: Spigots
Glass panels are braced using Spigots. Spigots by TAG Hardware comes in various finishes like brushed, polished, matt black, gold, and custom finish on special orders. Two types of spigot available to install glass pool fence are top-mounted and side-mounted. The top mount range comes with an option of round and square shape based on the project preference. At Tag Hardware, the technical team can help in choosing the best option.
Choose Tag Hardware as your reliable supplier for these fitting, the Square Friction fit spigots range is approved as per the National Building Code of Canada.
Pool Fencing with Base Shoe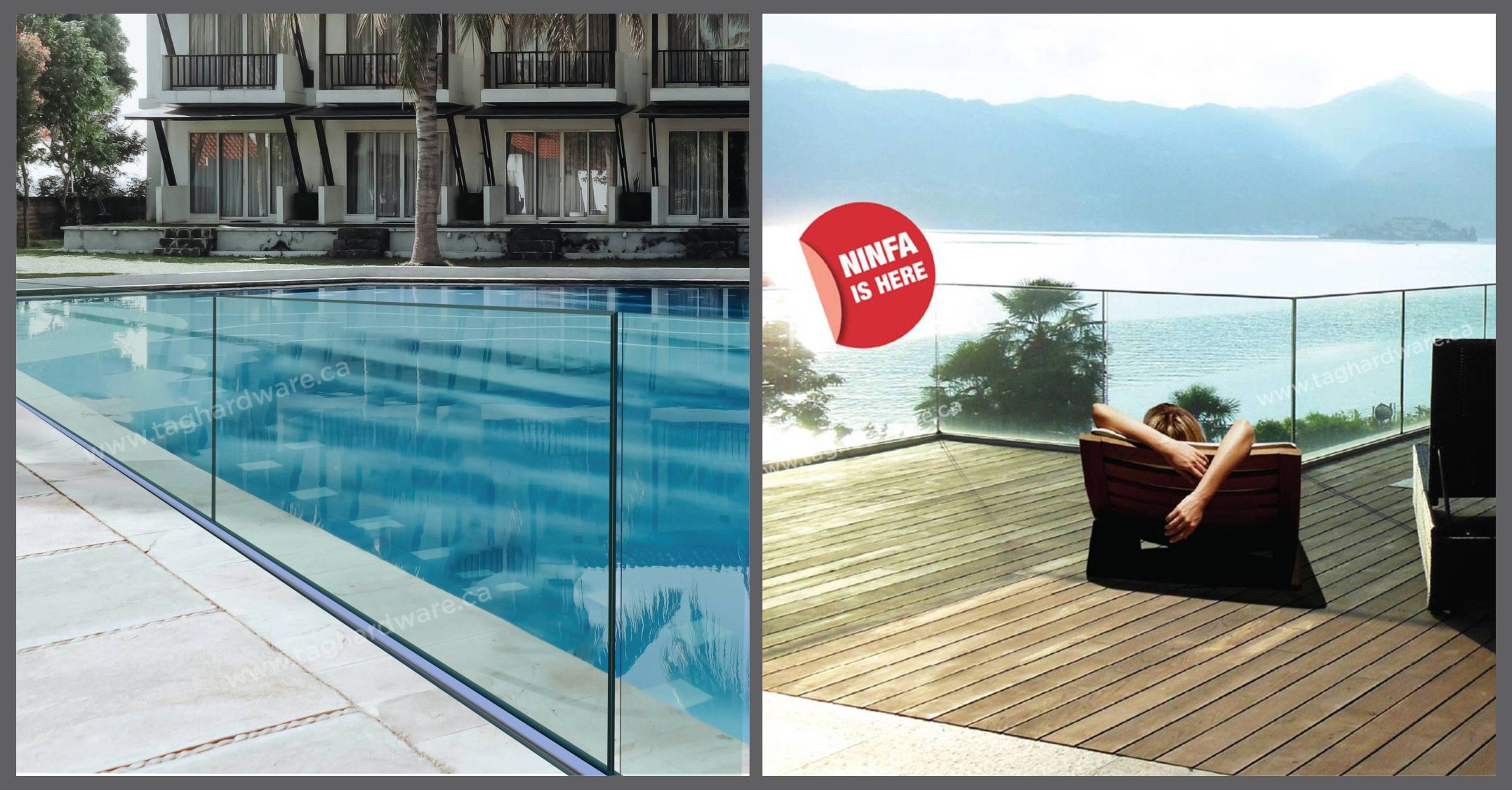 Recommended Product: Base Shoe
Base Shoe System is used for pool decks and glass fences for a flawless minimalist look. This system minimizes visual distractions and provides an amazing finish of glass meeting the floor. For people who wish to keep things sleek, this is one of the best options to be used while installing a glass pool fence. The Glass fence is supported by the heavy glass base shoe from the bottom.
Glass Panels - Custom or Standard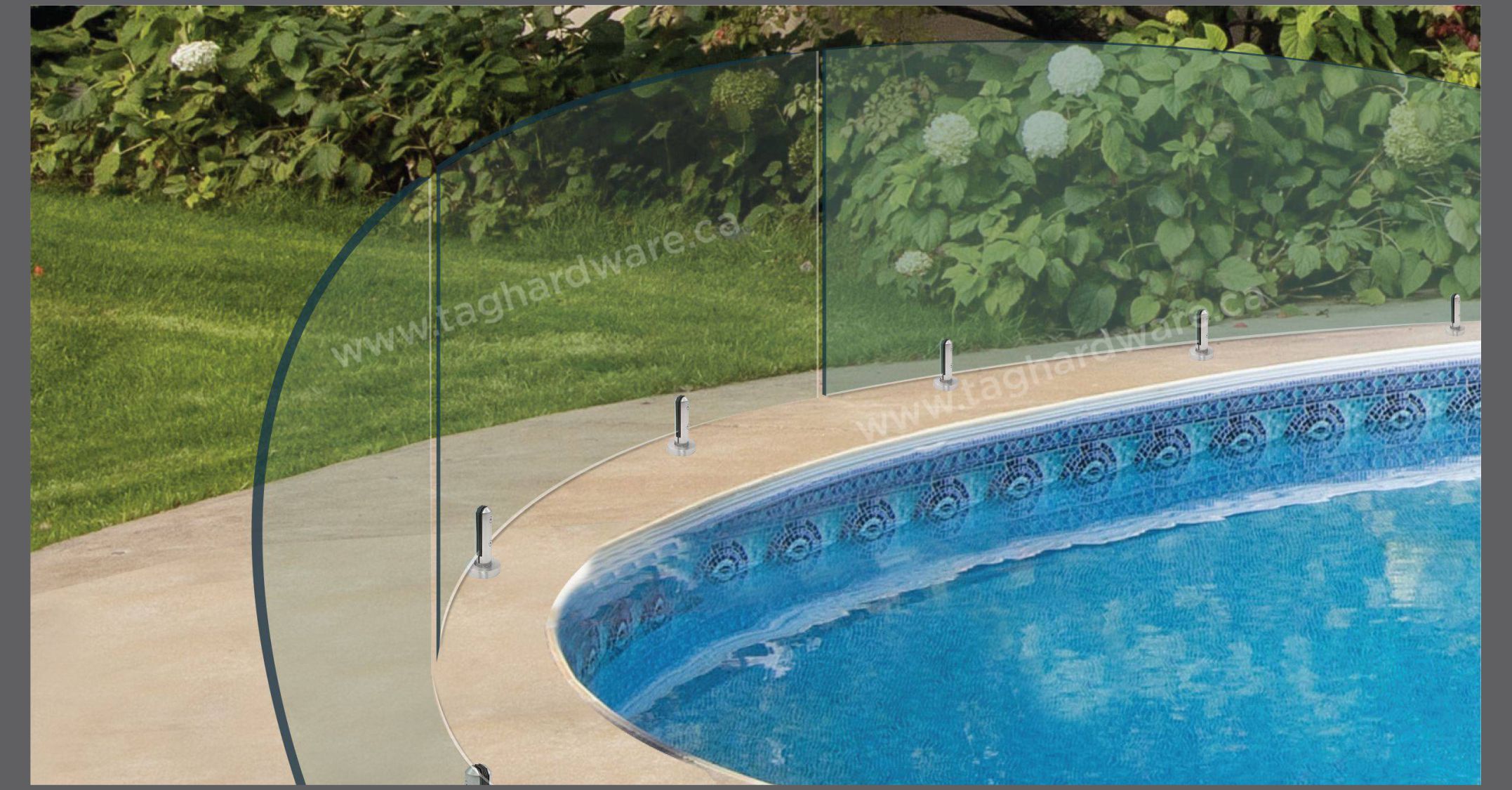 Recommended Product: Glass Panels
With Vaughan Glass and Mirror (VGM), the in-house glass fabrication facility of Tag Hardware, glass services are available offering custom & standard glass pool panels that can lead you to set a benchmark for designing your exterior at a fast lead time.
Gate Hardware

Recommended Product: Gate Hardware
Gates are essential requirement for most pool fencing projects, pool needs to be safety enclosed without detracting from the design. Gate Hardware options from Tag Hardware are available for variety of configurations like, glass to glass or wall to glass latches. The range of Hydraulic hinges comes with self- closing mechanism and child-safe features.
If you're planning to get a frameless glass pool fence in your swimming pool area or to upgrade the old pool fence, then we advise you to have the best. Tag Hardware is here to assist you with everything you need for your pool fencing project. Tag Hardware is a one-stop-shop delivering custom and standard glass and glass hardware with technical support and 3D drawings. Contact us today for your next pool project.
DID YOU KNOW? Tag Hardware's Technical Team is available for assistance for your Pool Fencing Projects. Contact technical@taghardware.ca